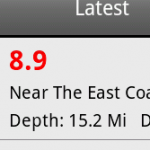 I've always been fascinated with Earthquakes.  This fascination lent itself well once I began writing Android apps.  I was able to combine my interests and create Earthquake Alert!, an app that give users a great way to view and explore earthquakes all around the world.  As an active user of the app myself and testing push notifications, I was one of the earlier people to be aware of the Japan quake off the coast of Honshu.
I was alerted that night with my phone vibrating once for each magnitude level.  8 vibrations was shockingly unexpected and I knew this historic Earthquake would have devastating effects to Japan as well as coastal towns across the world.  I immediately checked the Internet for news on the quake and was surprised to see nothing.  All news organizations should be alerted of Earthquakes this size.  In the end, my app provided plenty of value for exploring the details of this quake and the hundreds of ongoing aftershocks.  The following are a few screenshots of the quake from Earthquake Alert!  Notice this was when the quake was still classified as a 8.9, as has since been upgraded to 9.0.
Japan quake screenshots
List view shows the historically high magnitude quake.  The big quake, the large Honshu quakes leading up to the quake, and the many hundreds of aftershocks were some of the largest earthquakes every seen on Earthquake Alert!
All the Japan Quakes within a small window of time.  The number of aftershocks are amazing and totally obscure the large one.  Those aftershocks are still showing up on Earthquake Alert! and are quite significant.
Number of Downloads for Earthquake Alert!
App growth since January 2011 – steady growth until Japan quake and then accelerated growth.  As of March, there were 110K downloads.  Only 25K downloads mere weeks earlier.
Conclusion
Earthquake Alert! has provided value for many citizens around the world which is great news.  Unfortunately, the events it displays often are disastrous to a nation.  Remember, if you do download Earthquake Alert and use push notifications, this app cannot and should not be used as a early warning system simply because quake events are often reported online minutes to many minutes after the fact.