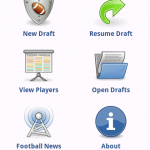 The best off-line fantasy football drafting app for Android is back and re-tooled for 2011. Master your fantasy football draft with the addition of a number of asked-for features like custom scoring settings, the ability to manually edit the pre-rankings, and better support for player news.
Let's take a look at some of the best new features for this year's fantasy football drafting season.
1. Customize rankings based on scoring settings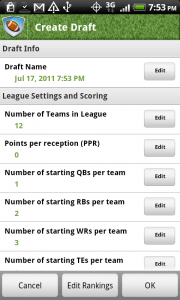 This year's Draft Punk allows you to specify the scoring categories for all your various leagues.  Once you change these settings, the app will automatically re-rank the prerankings based on these settings.  No longer are you tied to cheatsheets using default scoring settings.  Specify advanced scoring settings like points per reception (PPR) and see those catch-happy RBs move up the list.
This year's edition allows you change the most common scoring settings (covering the majority of leagues).  In future versions, more settings will be available even for you power players.
2. Manually edit the prerankings
Not happy with the rankings?  Think you could make them better?  This year, I added a mode with drag and drop capability to reorder any of your draft's rankings.  And if you are in multiple leagues, you can import these custom rankings to any league.
One thing to note is that when you modify the prerankings, those rankings are set for good (even if you download more up to date base rankings).  So make sure you edit these rankings as close to your draft as needed.
3. Fantasy Football and NFL news
Draft Punk has become the one stop shop for doing draft research.  Check out the latest articles to gain valuable information on this year's sleepers, bust, rookies, etc.
4. Revamped Player Profiles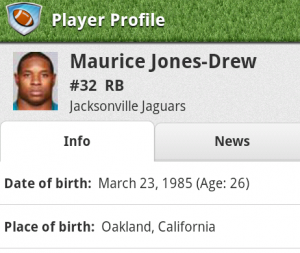 To gain more edge on draft day, click any player to see their player profile.  This year I've included:
 last year's stats
 player basic info,
 and the all important news tab.
 Found out if the player you are about to draft has any injuries or notes
5. And more awesome features
An enhanced "My Team" tab to keep track of who you still need to draft.
Add notes to any player
Mark players as interested or keepers
Export your draft results to email
Add any missing players to keep your draft results consistent
Over 825 players
Good luck with your draft and see you next season!